DIE TEMPERAMENTVOLLE KRAFT DES EMBOLDEN E+ VERLEITET DICH DAZU, AUF SCHRITT UND TRITT JA ZU SAGEN, UND BRINGT DICH WEITER UND SCHNELLER ALS JE ZUVOR.
Highlights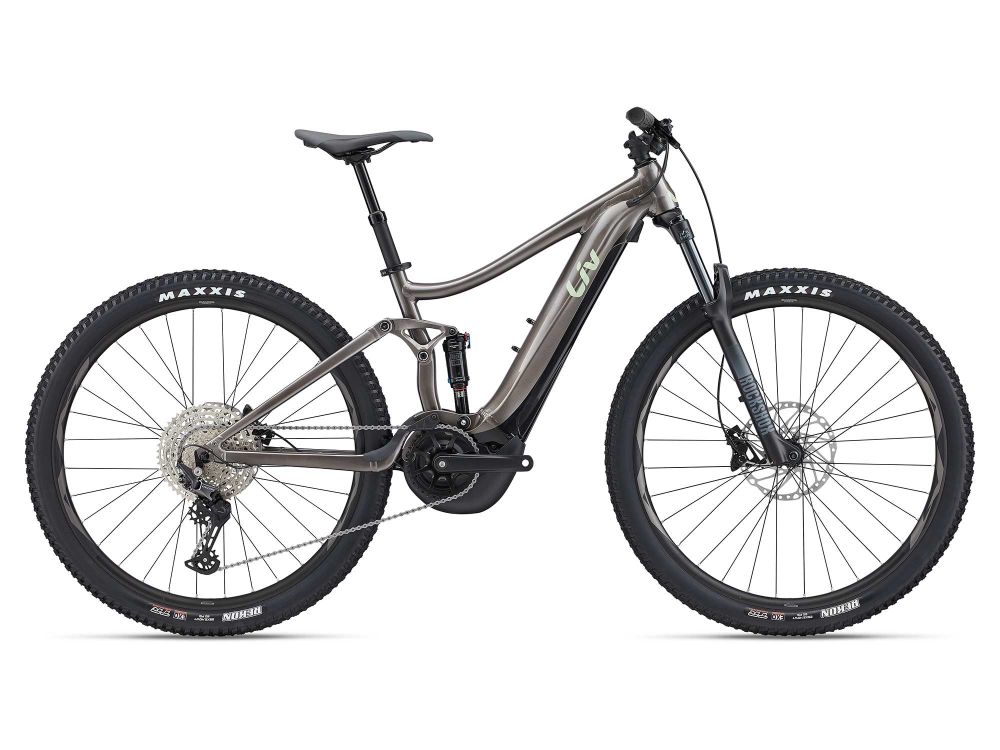 Galerie
Selecting any of the image buttons will open a larger image gallery with image descriptions
Technologien

ALUXX SL Aluminum Technology
Das Hochleistungsmaterial besteht überwiegend aus 6011-Aluminiumlegierung für ein hervorragendes Steifheit-Gewichtverhältnis.

EnergyPak
EnergyPak side release design makes it easy to handle and remove the battery from the E-bike, plus the battery can be charged on or off the bike for convenience.

FlexPoint Suspension Technology
Eine bewährte Eingelenker-Bauweise, welche die Bewegung der Kettenstreben/ Sattelstreben-Verbindung nutzt, um ein leichtes und robutes Federungssystem zu produzieren, das 4,7 Zoll/ 120 mm Federweg bietet.

Hybrid Cycling Technology
Hybrid Cycling Technology beschreibt das System, elektronischen Antrieb mit menschlicher Kraft zu verbinden, um allen Fahrertypen die Möglichkeit zu geben, Liv E-Bikes zu erfahren.

RideControl Dash
This two-in-one unit features buttons to control support modes plus an integrated color display. You can check range, battery level and support mode, along with standard cycling data such as speed and distance without having to another screen to the E-bike. It also has an ANT+ connection so you can connect a heart rate monitor and other fitness devices.

RideControl ONE
RideControl ONE bringt dein E-Bike-Fahrerlebnis mit integrierten Tastenbedienelementen und einem sauberen Lenker ohne Display auf ein neues Niveau.

Smart Assist
GIANT's PedalPlus 6-Sensor-Technologie wird in der SyncDrive Motortechnologie verwendet und verfügt über einen zusätzlichen Neigungssensor und Beschleunigungssensor. Während die PedalPlus 6-Sensor-Technologie Neigungen erkennen kann, bietet sie auch eine automatische Smart-Support-Modus-Funktion, die der Fahrerin ein müheloseres Fahrerlebnis ermöglicht. Diese neue Sensortechnologie berechnet die Größe des Drehmoments, der Trittfrequenz, der Steigung und der Geschwindigkeit und bestimmt auf Grundlage dieser Berechnungen die Menge an Motorleistung, die die Fahrerin benötigt.

SyncDrive Sport
Innovation, Herstellungskompetenz und ein von Yamaha angetriebenes Motorsystem erweitern die Fähigkeiten jedes Fahrers. SyncDrive Sport bietet 5 Unterstützungsmodi und ist bei E-Bikes verbaut, die sowohl für alltägliche Fahrten als auch für anspruchsvollere Fahrten im Gelände verwendet werden. Dieser kleine Mid-Drive-Motor liefert ein maximales Drehmoment von 70 Nm und ist für seine Leistung und Zuverlässigkeit bekannt.